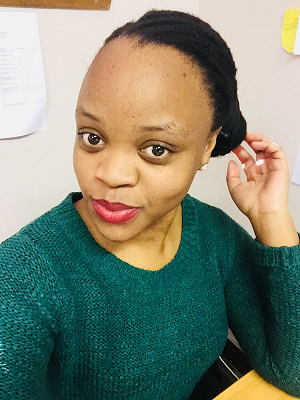 Nomagugu "Gugu" Mpembe:
Parenting Programmes Coordinator
What is a "typical" working day for you? A lot of organising and scheduling and calling and setting up meetings and groups, awareness and trainings. And then the actual work in the community.
What has been a memorable moment in your work in the past month? It's been with the Play Mat* refresher process. We started the process in order to increase play and learning in the home, but it's been very significant for me to realise that the impact has gone beyond play in the home, to be able to impact emotional and physical stuff that is happening in homes. I don't think I was expecting cases of abuse and physical punishment of children (to come to light). I think it shows how powerful play is, through play, children are expressing more. Children are talking about what's happening to them in a space where before, they wouldn't have gotten the chance to. They're trusting their caregivers in that environment to be able to help them, it just shows the type of relationships the facilitators are building with the caregivers and then the relationships that caregivers are building with their children.
What are challenges you have to contend with in your role
? There is a challenge in the community of people's participation, and of keeping the momentum of our work going in the community. We put a lot of work in and put in so much effort into building relationships, to providing training, and at the end of the day, the responses can be much lower than what you expected them to be. I understand that there's a lot that people are preoccupied with, there are a lot of challenges that they're facing, and it also just reflects how difficult life is for everybody.
Another challenge is sometimes you expect a lot from yourself, you think you're not doing enough.
It's challenging to work with people's emotions. Every day you need to be present and find a way to let the stories that come up affect you. It feels like you've got to be a bit of a Superwoman, wake up every day to take it all in again.
Sometimes it's hard to live with people's stories. You realise that you might be more privileged in certain ways than others, how you balance that can be challenging at times.
What motivated you to go into community/youth work?
I don't know! Lots of people wouldn't have expected me to be in this work, as an extremely introverted person. But this is starting to change. I am an introverted extrovert now! At the same time, I don't see myself doing anything else but community work. I'm an introvert but I'm very different when I work with people. They bring out a different side of me.
I manage by "switching off" when I go home. I don't want to talk, I want to be alone in my own space. I'm a personal space person, I'm a hibernator. It just clicks in after work. I like it like that, it works for me. This is what re-energizers me.
What keeps you going? Breaks. I enjoy time out. Going on holiday refreshes my mind and gets me ready to get back into the work again. Not dwelling on a lot of stuff that comes as a part of my work, and just accepting that it's not mine. I'm just a tool. Which is hard sometimes, but I'm always trying to find that balance of "this is not mine".
What three words describe you when you're not at work? Hibernator, couch potato, social time (Play!) with friends.
*For further details about our Play Mat process please have a look at our Website www.dlalanathi.org.za under the tab 'Our Programmes' and 'Research and Development'.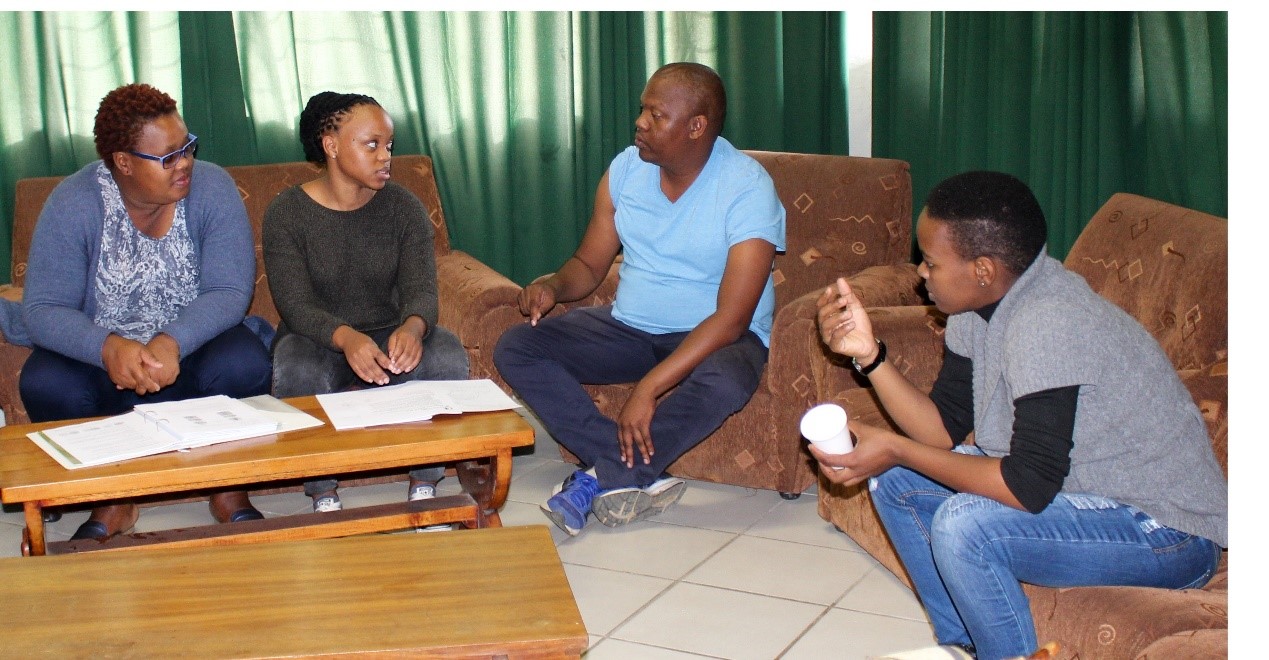 Gugu, second from left, in planning with the team over a ME Power weekend.