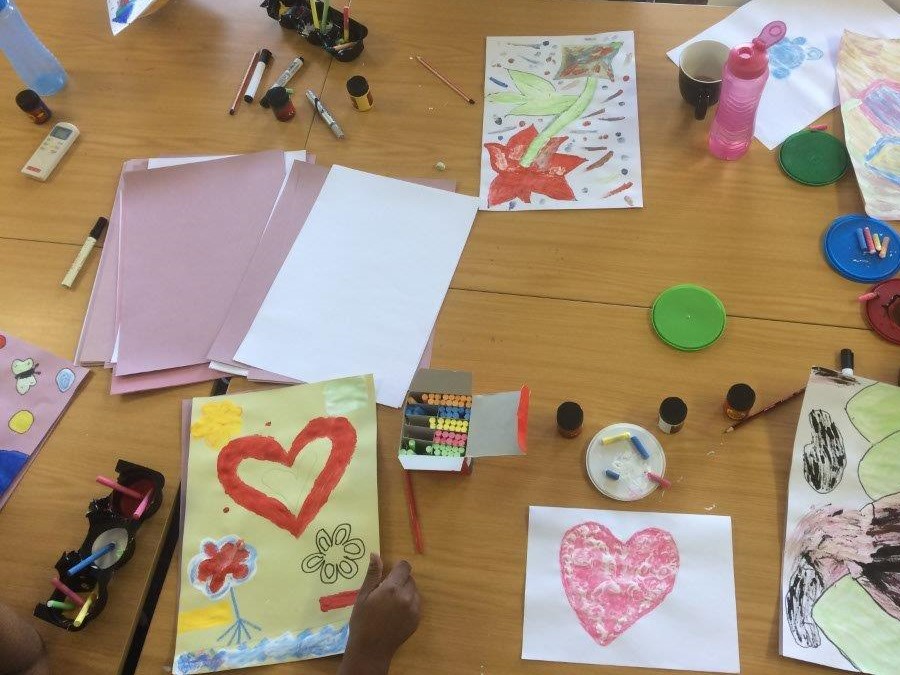 Once a month the fieldwork staff get together with the Development Manager, Linda, to engage in technical supervision (TS). The focus of TS alternates between process-related work and a fun creative space to relax and play together as a team.
In process-related supervision the team looks at a particular process they have been implementing in the community to think about revisions needed and/or decide whether there is any upskilling necessary for better implementation of that particular process. We have learnt that every community is unique and what may have worked in one community may require adapting to best serve who we are working with now. For example Me Power (a personal development process that focuses on empowerment), one of dlalanathi's core processes for over 10 years, was reviewed in a TS session and small, but significant changes were required to ensured that the process continues to be relevant to the context in which it is implemented today.
This has also been an incredibly useful space where new processes get tested out with fieldwork staff. We believe that it is really important to engage with the content and process ourselves first, before facilitating it with others. This allows for direct feedback given to the Development Manager and has allowed us to refine process and prepare for the work in the field. For example, dlalanathi has started engaging with Sexual Reproductive Health and Rights issues with youth in communities in the past two years. The TS sessions have been the ideal place to test out new material, as well as offer the team a place to become comfortable with the content.
In the creative space TS, fieldwork staff have been given the space to have fun, get a little messy, and laugh! In 2017 the team did 'no bake baking' to produce some yummy (sweeeet) goods, explored chalk painting and did dot-to-dot drawings with their non-dominant hand. These creative space times are full of laughter and chatter, are a chance for the team to stop and reconnect with each other as well as with their inner-child.
TS is vital; firstly because it helps the team to consistently examine our ongoing processes and reflect on what is working and what needs to change, especially for those processes the team has been implementing for several years. And secondly, because dlalanathi promotes the values of Love and Play in the community, we as a team need to ensure that we are embodying those values for ourselves; making time for self-care, fun and play in our own lives. TS contributes to be some of the "glue" that holds us together as a team.
Some questions you can ask yourselves as an organisation
How do you make space to review your processes in your work life as an organisation?
How do you make space for fun and laughter together as a team?
We'd love to hear your practices and ideas, or your thoughts on how you can build this into your organisation in 2018!
PS: dlalanathi has a 'Developing Reflective Practice' training. This programme is based on the understanding that in order to care well for others, caregivers and practitioners (NGO and CBO staff) need to be able to care for themselves. In order to be good leaders, leaders need to know themselves. The training is a series of 3 x 2 day workshops.
This programme offers:
Self-care: creative activities and sustainable techniques for self-care, mindfulness, knowledge about self and work-life balance.
Reflection tools: for reflection on work, developing professional practice, using theory to help understanding – debriefing and creative reflection
Personal and professional tools in managing relationships
Knowledge and skills for how organizations can support developing reflective practice.
Please contact Robyn Hemmens on
This email address is being protected from spambots. You need JavaScript enabled to view it.
for further details.